Your Partner for Cutting and Automation
MPM - Effective production management
MicroStep Production Management (MPM) provides computer-aided process planning (CAPP) features for automation of the workflow on CNC machine(s) or production lines. It is an integrated system of order processing, nesting, stock management, machine operation planning and evalution which interconnects pre-production data, control systems of CNC machines and MicroStep's automatic nesting software AsperWin®. It helps to reduce work-in-progress, to save material, and to eliminate operator errors.
Although designed for MicroStep machines with AsperWin® CAM and iMSNC®, MPM also offers possibilities of cooperation with third party machines. Naturally, the production data can be shared with customer´s ERP system (e.g. SAP, AXAPTA). For effective production planning, the system provides weight analysis of particular orders along with weight reports of actual stock resources.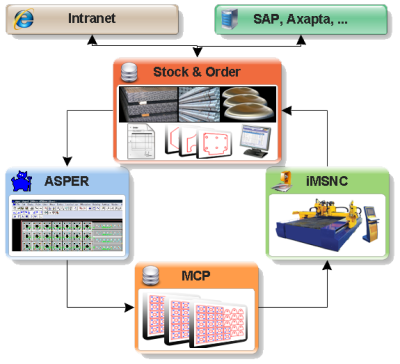 MPM > Production cycle

Stock & Order

An SQL database of stock, parts and orders. The database is automatically updated after each cutting according to feedback from iMSNC® – the user has an instant overview of all processed orders and stock supplies.


AsperWin®

The CAM user simply selects a machine and chooses a semi-product from the database – all parameters for nesting are transferred automatically according to technologies of the chosen machine and properties of the semi-product. Parts for nesting can also be loaded automatically from S&O according to order priorities. During nesting, remnant material for stock can be defined.


MCP

A joblist of cutting plans and machine operation management. Cutting plans are automatically distributed to cutting machines according to available technologies and defined priorities of each machine. If cutting has not been completed for some reason, the cutting plan returns automatically to the queue with the highest priority.


iMSNC®

The machine operator simply follows the displayed MCP priority joblist for his cutting machine. Thanks to material information stored in each cutting plan, the machine automatically loads cutting parameters for each processed semi-product. If some parts have not been cut properly, they return for the next nesting with highest priority while the order status in S&O is updated accordingly.